I moved to Marblehead, Massachusetts in 2011 and surprisingly this was the first time I've had an engagement session in my own town. Unfortunately, it was probably the most challenging weather conditions I've ever experienced as a photographer but it was TOTALLY worth it. First off, my clients Tiffany and Bobby are troopers. Tiffany and I discussed their engagement sessions for a few weeks prior and decided to shoot rain or shine. Well, Mother Nature decided to test us because not only was it raining but it was a cold 40 degrees. Regardless, I put on my rain gear while Tiffany and Bobby did an amazing job smiling even though I knew they were wet and freezing.
First stop is a popular site-seeing destination in Marblehead, Crocker Park. Crocker Park has a great view of Marblehead Harbor as well as a covered Gazebo. Since it was raining I thought, "at least we'll have a little roof over our heads." Well, the wind was blowing sideways that it didn't matter. The conditions really didn't make sense for us to even attempt any pictures. So we headed to another location (my Plan B) at Gashouse Beach. I thought maybe if we were at sea-level, the surrounding seawalls and natural rocks might protect us from the whipping wind. When we arrived I knew immediately that I was wrong again. Strike two.
Third time's a charm
Things weren't looking good and my mind was racing trying to think of possible places to shoot when Bobby suggested another famous Marblehead landmark, Redd's Podd. YES, of course! Luckily, Redd's pond is just around the corner. When we arrived it instantly felt warmer since Redd's pond is inland just a little bit. It turned out to be the perfect spot to finally begin our engagement session. It was fun incorporating the needed umbrellas and hiding under some bushes during our time at Redd's pond.  Although it was such a gray day there was a bit of color with some yellow bushes and the famous red house.
After we finished at Redd's pond, we made our way to one of my favorite spots in Marblehead, Castle Rock. The views at Castle Rock are spectacular even on a rainy day. The natural rock formations really add to the drama of the crashing waves. Once again, Tiffany and Bobby braved the weather as well as climbing down on some really jagged rocks. The only word I can think of about shooting at Castle Rock is "Amazing!"
Finally, we ended our day at Chandler Hovey Park for the last few pictures. In the end, we were very wet and cold but the pictures we captured made it all worth it! I had an amazing experience shooting in my hometown for the first time and I look forward to Tiffany and Bobby's wedding.  We will be at the Red Jacket Inn on Cape Cod this coming September, rain or shine.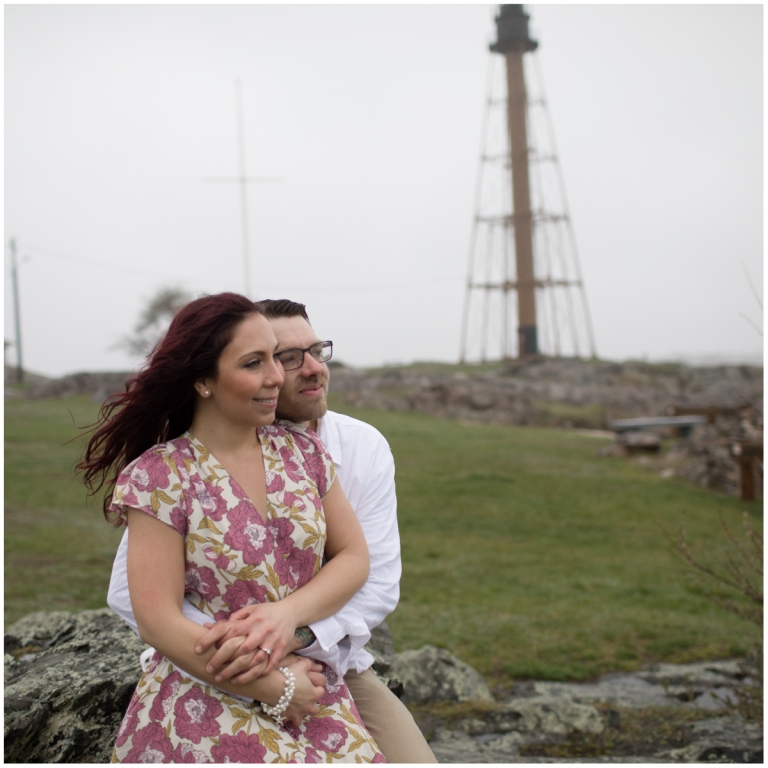 Arlene D Marston Photography is based in Marblehead, MA and services the Boston, North Shore, and New England area.